Galatians 3:1 who hath bewitched you, that ye should not obey the truth,

Focus on Obama's foreign policy adviser

By Wayne Madsen
June 11, 2008
WMR -- A Barack Obama administration will likely feature another Rice in a top foreign policy position. Instead of Dr. Condoleezza Rice, it will be Dr. Susan Rice, Obama's top foreign policy adviser, who will assume critical foreign policy responsibilities. Both Rices are African Americans and both attended Stanford University. Susan Rice served as President Clinton's Assistant Secretary of State for African Affairs where she earned a reputation of naivety and disregard for the democratic aspirations of African countries where one-party dictators beholden to the United States held sway.
[Photo: Dr. Susan Rice and Barack Obama] Particularly anxious about Rice's role in an Obama administration is the government of Sudan. Rice has turned her opposition to Sudan's government into a vendetta, one that does not harbor hopes that the dire situation on Darfur and new problems between Sudan's Arab north and black African south will be solved with Rice at the helm in an Obama administration.
Similarly, Rice did not endear herself to opposition leaders in countries like Uganda, Rwanda, Burundi, Ethiopia, and the Democratic Republic of the Congo. They believed that Rice sided with U.S.-supported dictators at the expense of advancing the cause of democracy. One Ugandan opposition leader said Rice told him in 1998 that he should just accept Ugandan dictator Yoweri Museveni's one-party state and "get over" his notion of a multi-party democracy in the country.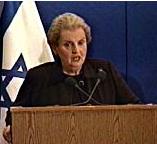 Rice's policies carried out the policies of her boss, Secretary of State Madeleine Albright, who also happens to be Rice's godmother. ([Saints See: Deadly Fallout From Obama's Groveling Before Israel Lobby - - Like a Moslem undertaking the Hajj, the once in a lifetime trip to Mecca, or a Catholic chancing to see the Pope speak from his Vatican window, presidential candidates seemingly long to trudge to the annual AIPAC conference to pay fealty to Israel and its Lobby. This year we were fortunate enough to witness John McCain, Barack Obama, and Hillary Clinton taking turns losing their dignity before the AIPAC crowd. At one point in his parody on The Daily Show , Jon Stewart spoke of John McCain taking with him Senator Joe Lieberman on a visit to Israel, advising McCain that when you visit Israel "you don't need to bring your own Jew." Hillary's declaration of support for Israel was merely icing on the cake that she earlier baked during the campaign by promising to "obliterate" Iran if it ever attacked Israel. That, without even a declaration of war called for by the U.S. Constitution should we attack another nation. (But see George W. Bush's attack on Iraq without such a declaration as precedent). It was left to Barack Obama, a candidate who at one time brought a great deal of hope to many Americans, including this writer, to complete the round robin of pandering to AIPAC, first by wearing not only an American flag pin, but one conjoined with an Israeli flag pin as well. Obama's nomination has improved America's image around the world, with the realization that, "everyone has a chance in America," as the saying used to go. But that is what makes his pandering so painful.] John 7:24 Judge not according to the appearance, but judge righteous judgment.)
Rice's foreign policy advisory role with Obama increased after the resignation of Samantha Power, the Illinois Democrat's other foreign policy adviser. Power was forced to step down after she referred to Obama's rival, Hillary Clinton, as a "monster" in an interview with a Scottish newspaper.
Rice is seen as someone who is willing to use military force in Africa, especially against Sudan, and is seen as a promoter of George W. Bush's widely unpopular Africa Command (AFRICOM), which places US assistance programs in Africa under a military umbrella. Rice is married to ABC News producer Ian Cameron.
Courtesy Online Journal
To Translate this Page click

on flag

and enter
&

http://lionofjuda.freehostia.com/news_page4207.htm in website/URL address!