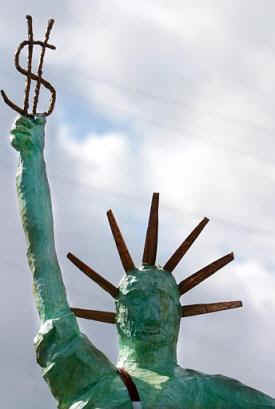 Jeremiah 51:30 The mighty men of Babylon have forborn to fight,
1 Timothy 6:12 Fight the good fight of faith,
They are weak, weak in the flesh, that is how women manipulate them.
Especially those in the Church of Mary, they bow to the women!
2 Corinthians 10:4 For the weapons of our warfare are not carnal,
This is spiritual warfare!
Jeremiah 10:2 not the way of the heathen,
Proverbs 4:19 The way of the wicked is as darkness:
(See: Tillman's Parents Are Critical of Army - Pat had high ideals about the country; that's why he did what he did," Mary Tillman said in her first lengthy interview since her son's death. "The military let him down. The administration let him down. (1 Timothy 4:10 we trust in the living God, Deuteronomy 5:7 Thou shalt have none other gods before me.) It was a sign of disrespect. The fact that he was the ultimate team player and he watched his own men kill him is absolutely heartbreaking and tragic. The fact that they lied about it afterward is disgusting." Patrick Tillman Sr., a San Jose lawyer, said he is furious about what he found in the volumes of witness statements and investigative documents the Army has given to the family. He decried what he calls a "botched homicide investigation" and blames high-ranking Army officers for presenting "outright lies" to the family and to the public. "After it happened, all the people in positions of authority went out of their way to script this," Patrick Tillman said. "They purposely interfered with the investigation, they covered it up. I think they thought they could control it, and they realized that their recruiting efforts were going to go to hell in a handbasket if the truth about his death got out. They blew up their poster boy."] John 3:20 For every one that doeth evil hateth the light, [See: Pentagon faked heroic death for icon shot by fellow Rangers - His parents, who learned the truth weeks after a nationally televised memorial service, broke their silence yesterday, accusing the Pentagon of telling "outright lies" to his family and the nation.
Soldiers at the scene knew instantly that Tillman was killed by American bullets as he sheltered behind a boulder. Gen John Abizaid, the American overall commander in the region, knew within days. But Tillman's fellow Rangers were told not to talk about it "to prevent rumours". His mother, Mary, yesterday told the newspaper that the Bush administration capitalised on the false account to counter the Abu Ghraib prisoner abuse scandal then unfolding. "I think there's a lot more yet that we don't even know, or they wouldn't still be covering their tails. "If this is what happens when someone high-profile dies, I can only imagine what happens with everyone else.") Proverbs 11:18 The wicked worketh a deceitful work: